Rent Chevrolet Car in Dubai
Chevrolet brand is best known for American based company which offers complete range of Luxury, Sports, SUV, and Sedan cars on affordable rate. The one of very famous sport car, Corvette is also from Chevrolet brand. Mostly tourists prefer to Rent Chevrolet Dubai on weekly and monthly basis, because this brand offers a lot in affordable rental rate. Chevrolet Suburban is a one of a great SUV model, which is best known for Luxurious 7-Seater. So, whether you want a normal-sedan car or looking for a Luxurious 7-Seater, you can find complete range of Chevrolet vehicle at affordable rates from us. Car Rental DXB offer best deals on Chevrolet Rental Dubai. Just choose any listed vehicle from above and send us an inquiry through our WhatsApp number. If there will be more rental days then we will give discount for sure.
Corvette Rental Dubai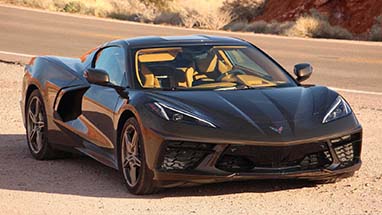 Chevrolet Corvette is a very famous Sports Car in all around the world. The Stylish interior, exotic exterior, and Powerful Engine gives you best driving experience of a Luxurious-Sports car. If you are planning for a world-class tour in Dubai then Chevrolet Corvette is a car that can add a great value in your overall experience. When you choose Car Rental DXB for corvette Rental Dubai then you can rest assured that the car which you are getting will be in excellent condition. You can also be confident that there will no hidden charges at the end of rental period. You will able to enjoy all of your tour with peace of mind. So, whenever you plan to Rent Corvette in Dubai, Choose DXB Rent a Car for the best driving experience.
Camaro Rental Dubai
Camaro is one of the best-selling U.S Sports car in Dubai. Chevrolet Camaro is best known for American muscular car and mostly tourist want to experience Camaro in Dubai in term of Affordable Sports Car Rental. If you want to add a little fun in your vacation to UAE then choose Camaro Rental Dubai from us. This American muscular car will provide ideal balance between power, performance, and economy. You will able to experience powerful sports car drive in cheap rental rate. The Sporty Exterior and Smooth-Driving experience will make you confident that you are driving one of the best sports cars in Dubai, in term of price and performance. We offer best rates for Camaro Rental Dubai. Just explore our website and book online now.